Women Leading on Green: a female perspective on sustainable planning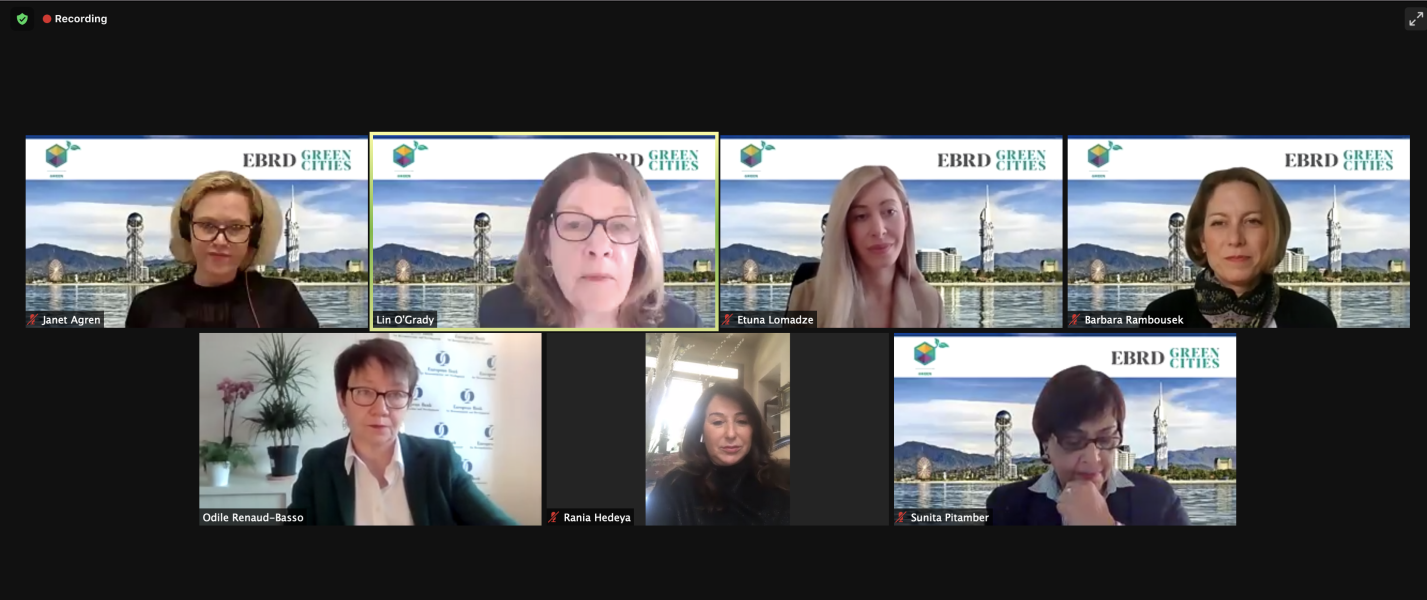 Celebrating International Women's Day, the EBRD Green Cities team, together with the Gender and Economic Inclusion (GEI) team, held the first EBRD Green Cities' webinar of the year, Women Leading on Green, on Thursday.
Greening cities is key to solving the problem of climate change, as cities are responsible for about three-quarters of greenhouse gas emissions. The successful €2-billion-plus EBRD Green Cities programme, now grouping 45 cities investing in a more sustainable future and aiming to expand to 100 cities, incorporates both gender equality and digitalisation planning in its blueprint.
With women disproportionately vulnerable to climate change, the perspectives that women can bring to green leadership have never been more important.
Sharing a range of success stories on gender-responsive design and employment opportunities, this webinar asked: how do Green Cities facilitate gender inclusion? how can we work together to support more women taking green leadership roles?
Forming part of the EBRD's week-long GEI-led #IWD2021 programme around International Women's Day on 8 March, our panel of women experts discussed scaling up on gender-inclusive climate action and city planning for both sustainability and crisis recovery, and how to effectively "lead on green".
EBRD President Odile Renaud-Basso's opening speech set out the development bank's three strategic priorities for 2021-25 – green, gender and inclusion, and digitalisation – and the linkages between them.
"There are no trade-offs. Gender has to be integrated into everything we do when supporting a green economy," added the EBRD's Director for Gender and Economic Inclusion, Barbara Rambousek, explaining the green and gender agenda in more detail:
"If we are serious about tackling climate change, we need to also tackle inequality, particularly gender equality. Gender is not an afterthought. It has to be fully integrated. Building gender and inclusion into our green investments is the way forward."
"In relation to gender and Green Cities, over the past year we have fully integrated a gender lens across the Green Cities programme. That starts at the beginning. We sit with designers to see what problems a city faces. We establish how gender can be built into both the assessment of problems faced and the solutions – particularly with regard to infrastructure, transport, but also water services and municipal services," she said.
"A second big issue we look at is how women are placed to get green jobs. That is a huge piece of work that we also fully integrate into our assessments. A third element is decision-making – making sure women are represented at the right levels around the right tables to be part of the decision-making process about what are the most appropriate solutions. This has already started in many cities including Almaty, Balti, Novi Sad and others."
"Our gender smart tagging process looks specifically and finds solutions for gaps. One example is Tbilisi, one of our leading Green Cities, where we specifically focused on the question of safe transport by tacking gender-based violence and harassment in various ways. At the same time we provide opportunities for women to work in the transport sector – and so far 22 women have passed the bus driver test in Tbilisi. And we want to go further, with gender-responsive design of affordable housing, for instance, and better inclusive transport standards to be introduced. There's a lot more to come."
A sparkling panel of guest speakers was drawn from city planning authorities in the EBRD Green Cities family and beyond.
Janet Ågren, Deputy Mayor of Umeå, Sweden, talked about lessons learned in 30 years of gender-equal city management, describing Umea's holistic understanding of sustainability and advocating sharing experience and knowledge to move the green and gender-responsive agenda forward.
And Rania Hedeya, country programme manager for UN-Habitat in Egypt, talked about the role gender-sensitive planning has in designing projects in Cairo.
"When we design our projects we have a gender checklist to help us make sure that the gender lens is well embedded. We do that from the beginning, from conceptualisation and project design to monitoring. In some cases I feel we do much more than that."
"One is our first bus rapid transit system, connecting two city regions that move 130,000-140,000 passengers. We wanted to build a system that would encourage women to feel comfortable using the system and understanding their needs. We partnered with UN Women to do surveys to make sure we understood the patterns of mobility of women, their needs and travel patterns. What came out very strongly was that an important issue for women was safety, despite the fact that they cannot always afford the safest mode of transportation: well lit streets around the terminals and stations, also systems to be able to report misconduct. So our project took all these elements into consideration, and the whole system reflected these elements – design, lighting, all of it."
Etuna Lomadze, Head of Municipal Policy, Batumi City Hall, Georgia – Batumi put the first EBRD Green Cities electric bus fleet on the road – called for more advocacy to move the green and gender agenda forward: "It's about awareness-raising to explain to people it's to their benefit."
Hedeya also focused on the need to include women in planning more sustainable city infrastructure that will better support their future: "If we don't engage women it means we drop 50% of the population's needs and capacities. It does nobody any good to do that. When we talk about environment, sustainability, resilience and all these issues it is for our planet, it is for our own good, and our children's and grandchildren's good. So making people understand the values we are talking about and the value added and the effect on their own lives and the lives of the people they love is the most important thing."
Clarity and simplicity were vital, she added. "We often go into places where the exposure of people to these issues is limited. When you start talking about the environment, some of the words - you know, those people struggle hard to make ends meet on a daily basis - the issue feels a bit far away from them unless you make them understand the direct effect on their own lives."
Summing up a lively and engaging discussion, Lin O'Grady, co-leader of EBRD Green Cities, highlighted the value of perseverance, patience and persuasion in building cities for tomorrow that are both green and gender-responsive.
Article by Vanora Bennett
To access the EBRD Green Cities: The Green Frontier webinar recording please press here.