Transition to Recovery Webinar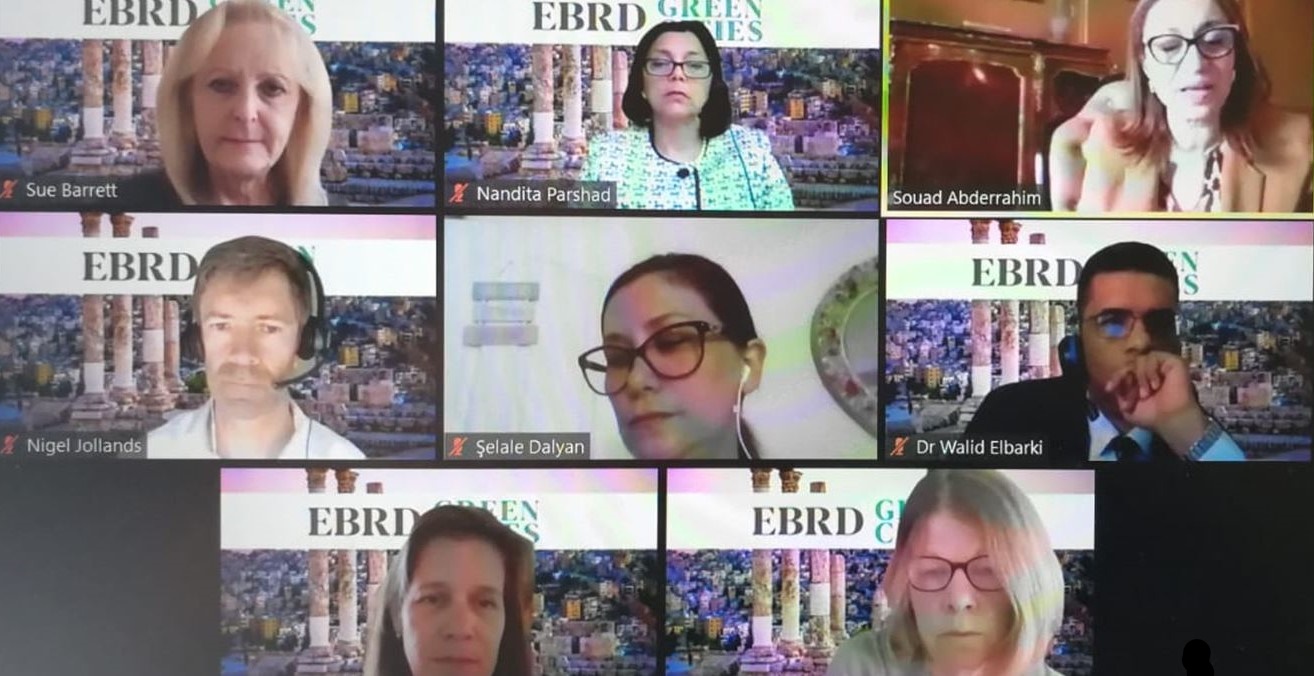 Coronavirus has turned the world upside down; cities have borne the brunt and are innovating in response. What has the response consisted of, and how can the EBRD help?
At a webinar on 9 July for city leaders, organised as part of the EBRD's innovative €1.5 billion urban sustainability programme, EBRD Green Cities and entitled "Transition to Recovery", the Bank's Sustainable Infrastructure Group Managing Director Nandita Parshad set out the EBRD offer.
"In the first 6 weeks of crisis €330 million of finance were approved and the Bank is ready to do more," she said. This finance was the first part of the EBRD's comprehensive support for its regions in the face of the coronavirus pandemic – a commitment to commit all activity in 2020/2021 to helping the 38 emerging economies where we invest, and a comprehensive series of response and recovery measures worth €21 billion by end-2021.
EBRD Green Cities was set up in 2016 to help cities lower carbon emissions and become more sustainable and livable. Cities, which are the source of most greenhouse gas emissions, also offer the biggest chance to deal with these emissions. The programme has been a runaway success and now groups 42 cities, each of which joins by taking on a trigger project improving a first element of its urban infrastructure, before writing a Green City Action Plan (GCAP) tailor-made to address its future environmental needs. These webinars are a chance for city officials to compare notes with each other as well as share experience with the EBRD.
As Parshad also noted, EBRD Green Cities is adapting to meet cities' post-pandemic needs and help "rejuvenate" them: "In the coming weeks a revised GCAP methodology will be rolled out to make better use of smart and adapt to the crisis."
Her keynote address was to the second webinar in a series. Hosted by EBRD Green Cities co-leaders Nigel Jollands (moderating) and Lin O'Grady (with concluding remarks), its focus was the southern and eastern Mediterranean region. Speakers included Souad Abderrahim, the Mayor of Tunis, as well as leading city officials Dr Walid Elbarki from Alexandria and Selale Dalyan from Izmir. B y city leaders from Tunis, Alexandria and Izmir, and a panel of EBRD experts.
Abderrahim talked compellingly about the trail of fear left in cities by lockdown and the measures she's been taking to rethink urban planning: community response, communications, capacity building – and cycling, with more bike lanes and pedestrian walkways being built as fear of infection when travelling by public transport remains strong. Supporting cultural health was another theme that emerged from guest speakers' addresses – distributing books to schoolchildren and newspapers to vulnerable adults. Cooperation, including the key relationship between city officials and the private sector, was also vital, officials said, as was thinking about the longer-term climate change crisis looming on the horizon: the "7 Cs".
The EBRD's southern and eastern Mediterranean MD, Heike Harmgart, and Sue Barrett, Director and EBRD head of infrastructure for Turkey, the Middle East and Africa, described how cities can integrate their coronavirus response with building back better (and greener).
"I don't see a trade-off, if you prioritise right. There are a lot of synergies. Investments in renewable energy have a fast return on investment while reducing the cost of doing business. There are a number of areas like this where it truly is a win-win situation to invest in green recovery," said Harmgart. The EBRD was supporting cities both with continued finance and tech-enabled solutions to transition from crisis management to be more resilient, both in climate and finance, she added.
"We're really looking forward to rising to the challenge of helping our cities make a better post-Covid future," said Sue Barrett.
The next EBRD Green Cities webinar will be held in early July, as part of London Climate Week.