Tirana hosts Green Financing Roadmap Workshop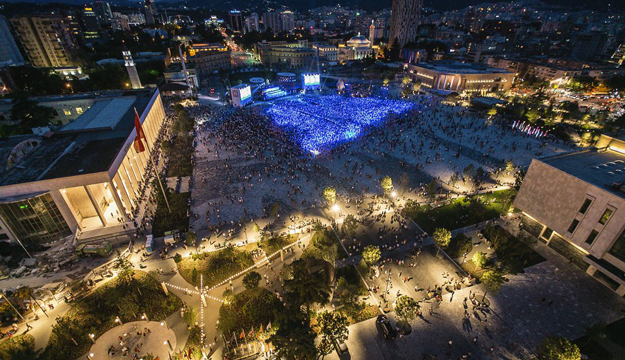 The Municipality of Tirana developed a Green City Action Plan (GCAP) in 2018 under the European Bank for Reconstruction and Development (EBRD)'s Green Cities Programme. Following the completion of the GCAP, the Municipality of Tirana has been driving forward key green city actions and projects.
As cities like Tirana seek to address their climate change challenges and contribute to meeting climate-related targets, access to capital beyond public finance is critical. In line with this, the EBRD has entered a Contribution Agreement with the Green Climate Fund (GCF) as donor to support cities to prepare Green Financing Roadmaps (GFRs) that will build their capacity to access green finance markets, including for green bonds.
In the Green Financing Roadmap assignment in Tirana, international consulting firm AECOM in collaboration with its partners E Co and Enova worked with the Municipality and the EBRD across five components: green finance, financial reporting, green buildings, green infrastructure, and green indicators monitoring.
Since February 2021, the consultants have collaborated with numerous city stakeholders to assess the current financing conditions and develop actionable recommendations for the municipality to diversify its green finance sources and access finance for its high-priority green investments.
As part of this process, staff of the municipality participated in a workshop hosted by the EBRD and implemented by AECOM/E Co/Enova on Thursday, 25 November 2021 in Tirana. The participants provided critical information and feedback on the project sheets for the municipality's high-priority green investments and discussed key recommendations put forward to further strengthen institutional policies, planning, and processes to facilitate and scale up green finance and green city development.
The workshop was followed on Friday, 26 November 2021, by a training session where staff from the municipality learned more about concepts and standards of green finance. They worked through examples of what makes green projects bankable and discussed green finance in the context of public-private partnerships (PPPs) and green procurement. This training completed a series of capacity development activities that has taken place throughout the year as part of the Green Financing Roadmap assignment.
Aligned with Albania's adoption of international climate and environmental policies and Tirana's existing strategies and plans, the ambition of the Green Financing Roadmap is for the Municipality of Tirana to take forward the actionable recommendations to facilitate its pathway towards scaled-up public and private finance for green city development.
For further information, please contact: Anxhela Doku, Head of Priorities Delivery Unit, Directory of Strategic Planning and Priorities Delivery, [email protected].