Semey and Ust-Kamenogorsk together launch their Green City Action Plans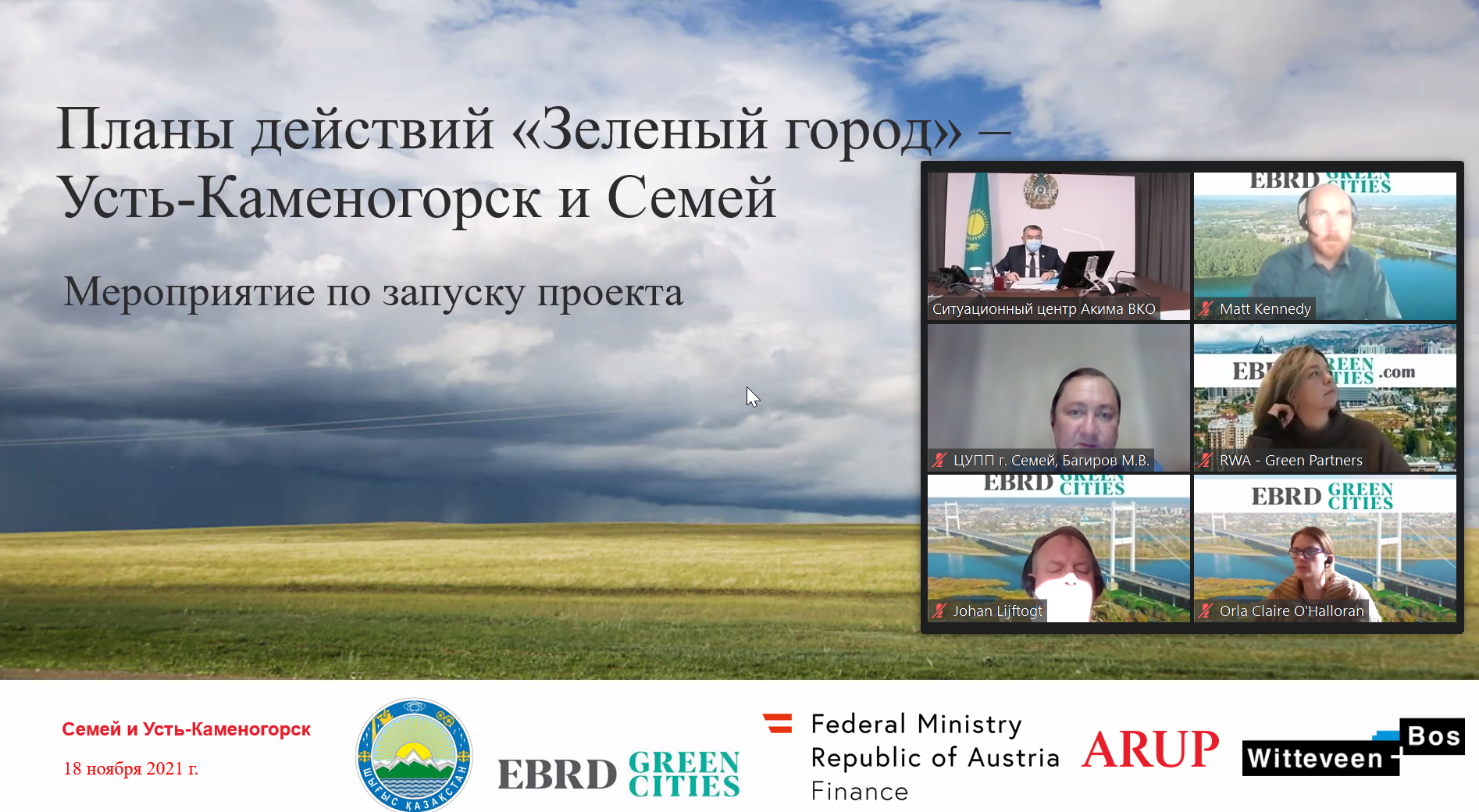 Semey and Ust-Kamenogorsk, two cities in eastern Kazakhstan, have the common aim to build a greener and more sustainable future for its residents. Today, the cities launched the development of two Green City Action Plans (GCAP). The two cities are the first to jointly develop their GCAPs in the Green Cities network, which now encompasses 52 cities. The GCAPs will be tailored to the needs of each city, whilst being regionally coordinated.
Today's launch event was attended by 57 participants online and several representatives from the cities and EBRD on the ground. In his opening remarks, the deputy Governor of the East-Kazakhstan oblast, Mr Nurzhan Zhumadilov, stressed that environmental concerns are citizens' concerns and that therefore an active participation and engagement from citizens for the development of the GCAPs is crucial. He reminded us that the implementation of GCAP actions will be crucial for Kazakhstan to become carbon neutral by 2060.
At the opening of the event, the Akim of Ust-Kamenogorsk and the Deputy Akim of Semey, Mr Zhaksylyk Omar and Mr Garikov Dmitry Aleksandrovich, expressed their commitment to developing realistic plans that are adapted to the needs of their cities. They acknowledged that sharing experiences between the cities during the GCAP development will be helpful in drafting implementable plans, being innovative and building on new ideas.
The overall goal of the launch event was to introduce the GCAP process and explain the roles and upcoming steps. Lin O'Grady, Co-Lead of EBRD's Green Cities programme, expressed her confidence that the GCAPs will support Semey and Ust-Kamenogorsk to further push their green agenda and identify concrete investments.
The technical assistance for the cities of Ust-Kamenogorsk and Semey to prepare the GCAPs is kindly financed by the Federal Ministry of Finance of the Republic of Austria.
Ust-Kamenogorsk and Semey have been city number 38 and 39 to sign up to EBRD Green Cities. Last year, the two cities signed GCAP trigger investments, which will bring more than €30 million of investment in local currency to improve solid waste management in both cities.
Bakhtiyor Faiziev, EBRD senior banker and associate director, made it clear that Kazakhstan is a key partner for the Bank. East Kazakhstan has recently been making significant upgrades to its municipal infrastructure. Since 2014, EBRD has committed finance of over KZT 16.8 billion (€40.3 million) to six projects in the water, district heating and street lighting sectors, making the region the Bank's most active partner in municipal infrastructure in Kazakhstan.