It's good to talk: an impressive first EBRD Green Cities webinar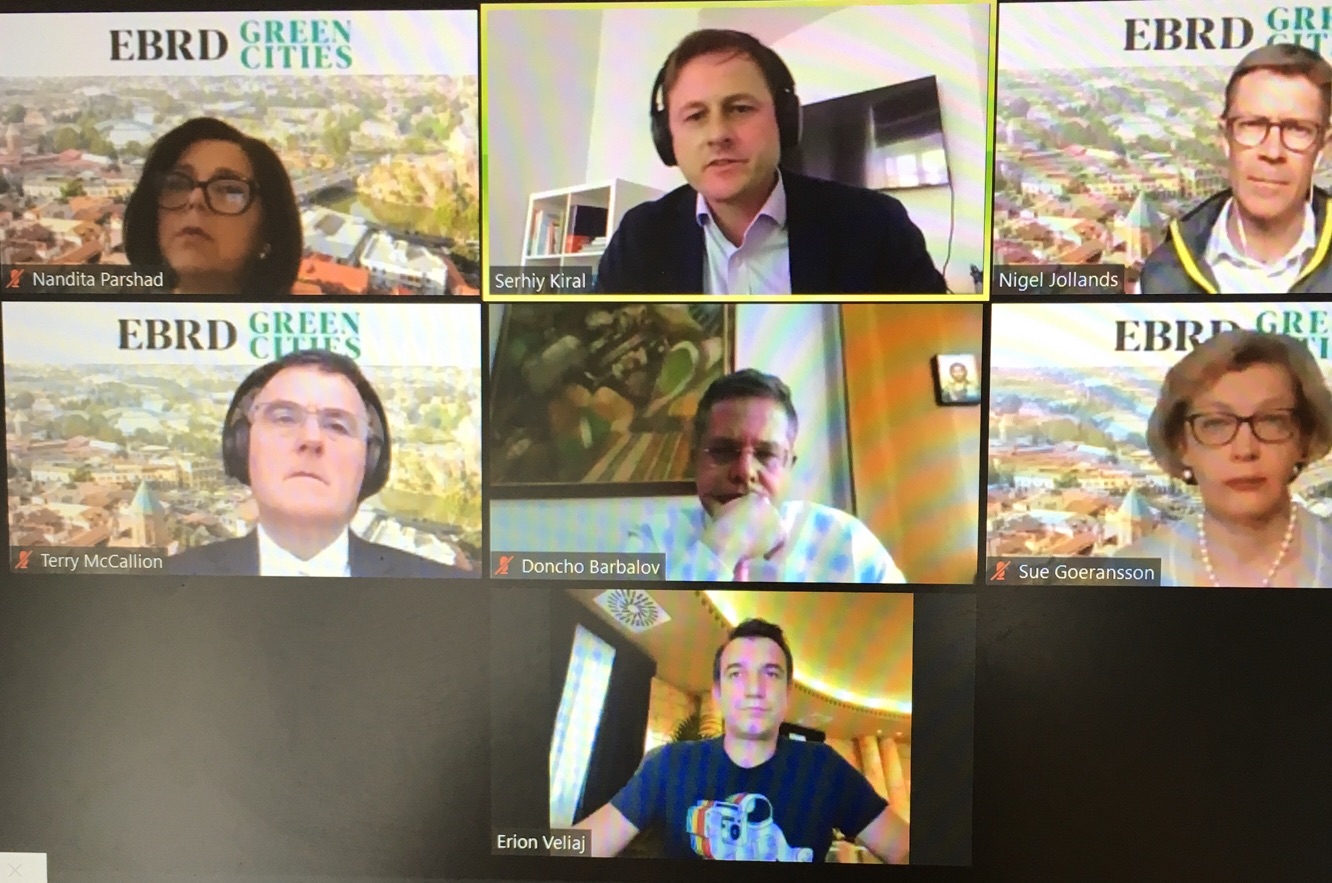 Cities all over the world have been struggling with the same difficult questions in recent weeks: how to keep their economies and their public municipal services, from rubbish collection to clean water, working as normally as possible, while also keeping their citizens safe from coronavirus and their medical services from being overwhelmed.
So on April 27, when the EBRD Green Cities team listened to representatives of some of the 40 cities in our innovative urban sustainability programme talk about how they've been coping, it was heartening to learn of the sheer creativity with which city halls in Tirana, Sofia and Lviv have met the challenge.
Some of the most original ideas - adopt-a-granny schemes have been set up in the Albanian capital, to keep old people from being lonely as well as to help them get food. Tirana schools are being redesigned to have smaller classes but bigger playgrounds for better social distancing. City officials who aren't sure buses will be a good thing any time soon are holding off on buying new ones but enhancing bike lanes, which they are sure will be great for personal safety, health and air quality, as well as providing work; as citizens gradually emerge from lockdown, cars will go on being banned at weekends. Pre-recorded school lessons are put up on Facebook. Disinfection tunnels have been set up for people on their way into markets. In the Ukrainian city of Lviv, meanwhile, officials who value their city's reputation as their country's cultural capital (it has an amazing opera house) have, among other things, been helping keep the local economy afloat by buying paintings from local artists.
The aim of the Zoom webinar was to give city officials an opportunity to share experience, and for the EBRD's Nandita Parshad, Sue Goeranssen, and Terry McCallion to discuss our expanded Solidarity Package 2.0. Particularly its infrastructure component, the Vital Infrastructure Sustainability Programme (VISP) - and how it can help keep companies, cities and countries afloat in the short term and going forward. Mayors are charismatic individuals, and the popular event attracted more than 150 people.
Behind the fizz of bravura thinking, however, the serious purpose and discipline were clearly visible.
"Geography is not a choice," said Erion Veliaj, Mayor of Tirana. "So it really helped to be close to Italy, where the virus hit the most, and try to learn lessons fast. You're allowed to make mistakes in our line of work, but you're not allowed to repeat mistakes that other people have made. So, in coordination with our central government, we were absolutely disciplined in a lockdown that started on March 9 and has carried on in varying degrees till now. And we used anything, from public service announcements to trucks going out with loudspeakers to the army to drones in tracking people that were violating the curfew – it really paid off. Albania has the lowest curve definitely in this part of the world and probably will be an example to follow."
These are officials who, despite the strain their economies are under, have all proved nimble on their feet when meeting crisis. The lesson Sofia Deputy Mayor Doncho Barbalov
says his administration has learned is, "We need to have the organisational capacity to mobilise our resources quickly. I think we managed relatively well this time but we should be prepared for any further developments."
They're also determined not to let the short-term crisis get in the way of their long-term green investments for the future. There have been fears that, with global oil prices now very low, cash-strapped countries and cities might jettison investments into cleaner energy and stick with oil and gas. But, as Lviv's Deputy Mayor Serhiy Kiral said, when asked what sustainable infrastructure to prioritise, "I agree with the need to continue investments in energy efficiency and more sustainable practices. We are not going to stop any of that, regardless of what the prices of oil are at this stage."
Their EBRD interlocutors appreciated the effort to overcome a problem of unprecedented seriousness. Setting out the VISP, Nandita Parshad, MD of the Sustainable Infrastructure Group, said: "Given that 60 per cent of the population in the EBRD regions lives in cities, you are on the frontline, and you and your citizens are central to tackling this crisis. Cities together with other infrastructure providers are facing exceptional financial strain due to the dramatic fall in revenues, amongst other challenges, arising out of the healthcare crisis and lockdown for their economic activity. In this context keeping essential public services safe and functioning is absolutely critical."
Infra Europe Director Sue Goeranssen talked about the EBRD's short-term help - liquidity loans that will form part of the package, with affordable and flexible payback. She also looked longer-term, adding:
"It's also important to say we have to start looking at life after Covid-19, at what will be the new normal, and this is where our EBRD Green Cities is so important – this is our flagship programme. After lockdown ends, we will look at what is the new normal. As a result of Covid-19, there have been some silver linings with respect to our green agenda. We know that the air is greener in a lot of cities, fewer cars are on the road, more people are using bikes. Cities have demonstrated the ability to innovate. As cities start to develop recovery programmes, this is where our EBRD Green Cities programme and action plans really can figure in. At the heart of the EBRD Green Cities programme is the Green City Action Plan, which is to help cities plan benchmark investments to address their environmental challenges all in a way that involves a lot of social engagement. And what we can see is that these Green City Action Plans will help cities as they recover by promoting collaborative planning to help design a greener and more socially inclusive future."
With so many problems to solve right now, it might seem hard to plan to avert the longer-term danger of climate emergency, said Energy Efficiency and Climate Change Director Terry McCallion. All the same, he added, "I think we should be bending over backwards in pursuit of green …. I think the pandemic gives us an insight into what a fully-fledged climate crisis would look like and I think it should encourage us to consider for the long term what we would do. We need to keep our eye on ball for the future."