Global Infrastructure Forum: panel on Green Cities and Smart Solutions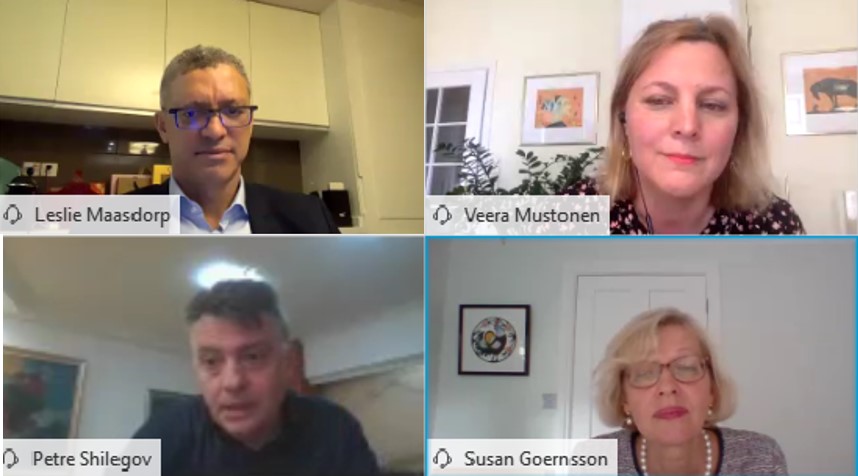 At the 2020 Global Infrastructure Forum in October, hosted online by the EBRD, the EBRD's Sue Goeransson, Head of Infrastructure Europe within the Sustainable Infrastructure Group, moderated a panel of experts discussing green cities and smart solutions.
Cities are a vital focus for work on improving sustainability, notably through more efficient infrastructure. As Sue Goeransson explained in her opening remarks, cities comprise less than two per cent of the world's landmass but contribute more than 70 per cent to greenhouse gas emissions, and more than three quarters of the world's infrastructure that is vulnerable to climate change can be found in cities. "Cities have also been at the forefront of the Covid-19 pandemic," she added. "We know that city budgets are projected to climb between 10-15 per cent this year. Yet cities will also be at the forefront of efforts to build back better and greener." Hence a panel focussed on what cities can do to use digitalisation and big data to improve and address challenges.
Smart – or digital - solutions are critical in helping cities reach their green and sustainability goals.
The Covid-19 pandemic has demonstrated still more reasons for urban improvements to be underpinned by smart technology, as smarter cities require less hands-on contact and have been shown to mitigate the pandemic quicker and more efficiently than others.
Three panellists joined Sue to discuss the needs, challenges and opportunities of incorporating smart solutions in the post-Covid green recovery. One was Veera Mustonen, the smart city expert who was the brains behind the Finnish capital Helsinki's "smart" pledge to digitise enough for every citizen to gain an hour of extra time – now a legend in the world of smart. Petre Shilegov, the Mayor of Skopje, North Macedonia, talked about smart city planning from the point of view of someone working on it, in practical ways, with his EBRD Green Cities counterparts. And Leslie Maasdorp of the New Development Bank, which co-hosted the session, described what cities in the BRICs countries are doing to get smarter.
As Sue commented, "cities are in the DNA of both our organisations. The EBRD has been active in lending to cities since our bank was founded. Our portfolio today is well over €3 billion and 225 projects."
EBRD Green Cities, the flagship €1.5 billion urban sustainability programme launched in 2016, which already groups 43 cities, is now taking the Bank's commitment to cities further still.
To access the EBRD Green Cities: smart solutions webinar recording please click here.