Gaziantep launches the development of its Green City Action Plan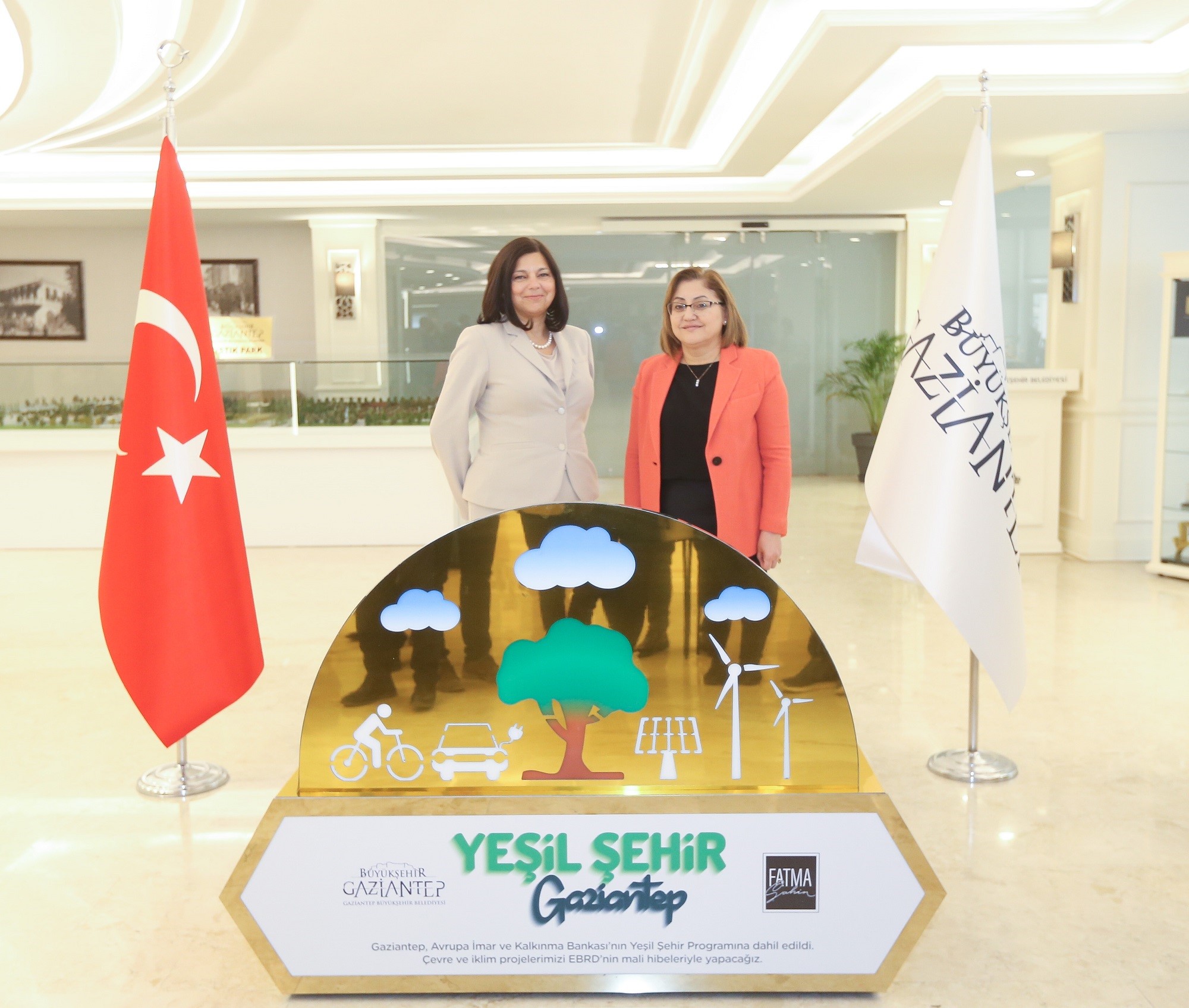 Gaziantep Metropolitan Municipality has launched its Green City Action Plan (GCAP) in order to develop and obtain financing for environmental and nature friendly projects.

 
The launch, held at the Gaziantep Metropolitan Municipality Assembly Hall was attended by Gaziantep Metropolitan Municipality Mayor Fatma Şahin, Iraq Gaziantep Consul General Hasan Abdulwahid Majeed, district mayors and officials, Nandita Parshad, Managing Director of EBRD's Sustainable Infrastructure Group and colleagues from EBRD's Turkey office and the EBRD Green Cities team.


At the meeting, topics such as solid waste, water management, wastewater, street lighting, energy supply and transport were discussed and the road map of the EBRD Green Cities programme in Gaziantep was announced.

 
In her speech at the launch, Mayor Fatma Şahin stated that as a Green City Gaziantep wants to be a happy, peaceful, healthy and resilient city - "We are the climate, we will change".

 
EBRD's Nandita Parshad expressed her happiness to be in the beautiful city of Gaziantep for the launch. Noting that the launch is the beginning of the Green City Action Plan process, Parshad said:

"Cities around the globe now account for 70 percent of energy use and three quarters of greenhouse gas emissions. For this reason, investing in cities offers tremendous opportunities to have an impact on climate change, air pollution and environmental degradation. At the same time it gives us the opportunity to improve the lives of people, including many of the most vulnerable. Gaziantep is no stranger to these issues. It was the first city in Turkey to create a Climate Change Action Plan. As we all know, it is a city that provides homes and economic livelihood to almost 500 thousand refugees."

 
Referencing EBRD's past financing to modernize Gaziantep's bus fleet with cleaner CNG vehicles, Parshad said, "Today, we are taking the city one step further with this Green Cities' trigger investment to finance 27 MW of solar capacity. However, there is so much more that can be done to make Gaziantep a more greener and liveable city. The EBRD is here to support Gaziantep".


Mayor Şahin said: "When we looked at the transportation infrastructure of this city, we saw that the fleets in transportation are very old, need to be rejuvenated, and we have brought environmentally friendly transportation vehicles to the city. In this context, we received 120 buses with the support of the EBRD. We need to get to the electric buses quickly. This is our must-have. We are currently working on making the municipality's vehicle fleet electric."

 
Stating that Gaziantep will create its own Green City Action Plan with the contributions of consultants and stakeholders over the next 12 months, Parshad continued:


"Gaziantep will identify and prioritise the main environmental challenges for the City's population and business community. I note that both drought and excessive heat are key issues in Gaziantep and introducing measures to mitigate their impact will be a priority. This may well include buildings energy efficiency, nature based solutions – trees provide shade – and actions to minimise water losses. Renewable solutions are also likely to be a key focus, and further focus on solar and, in turn, electric mobility will be explored."

Noting that Gaziantep is the third Turkish city to join the EBRD Green Cities programme, Parshad concluded:

 
"It is a pleasure for us to see Gaziantep among us. Thanks to the Green Cities programme, 1.6 billion euros have been invested in 64 sustainable infrastructure projects in member cities. EBRD is delighted to support Gaziantep in making lives better for its citizens, by enabling them to breathe cleaner air, have access to high quality water and waste water services and mitigating the risks of climate change."