EBRD GREEN CITIES AT COP27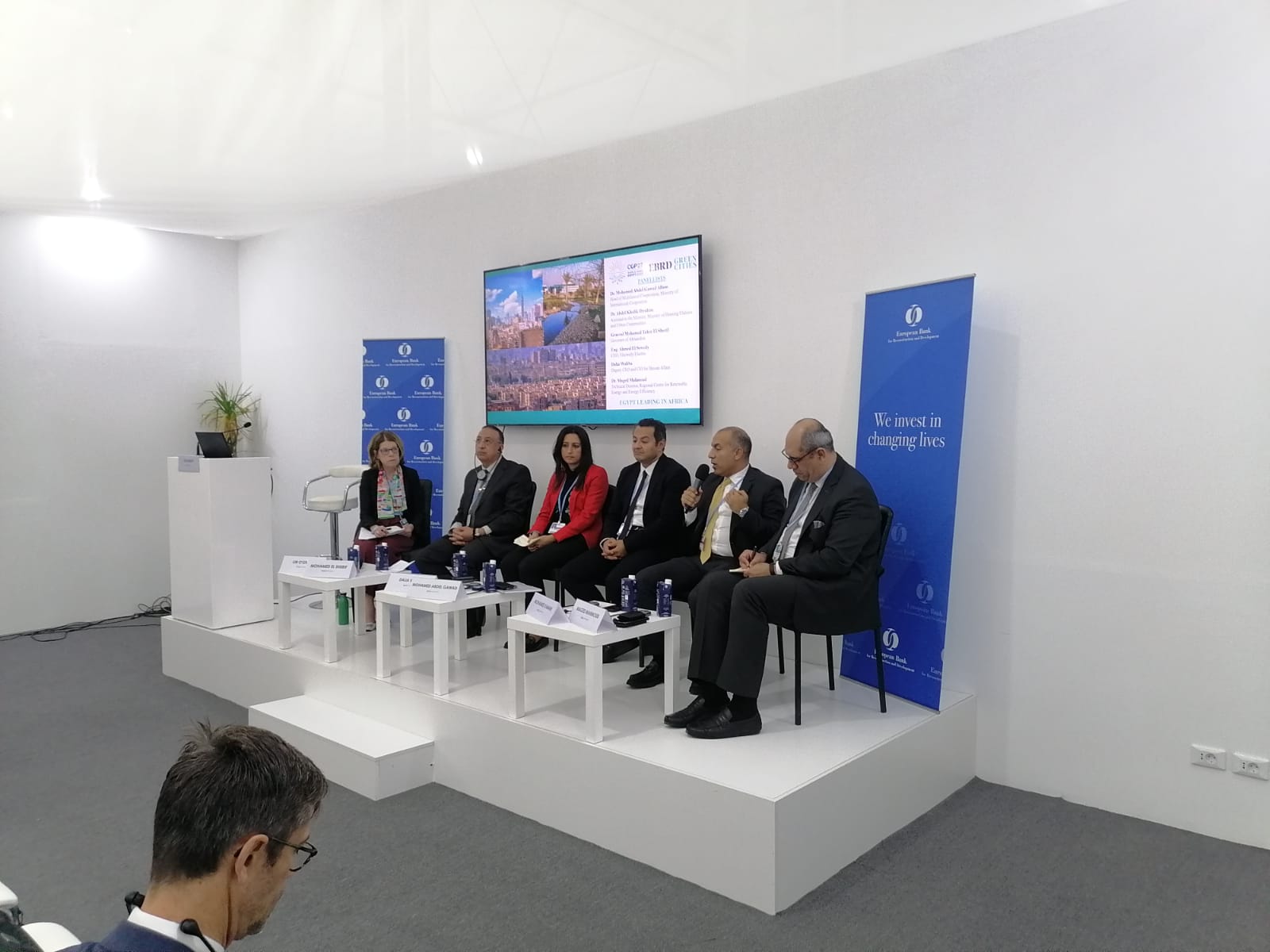 The 27th Conference of the Parties to the United Nations Framework Convention on Climate Change (COP27), that took place in Sharm el-Sheikh, Egypt, concluded on 20 November with a decision to establish and operationalise a loss and damage fund.
Cities had a prominent role in the conference, with many events highlighting the role of cities in addressing climate change.
EBRD Green Cities participated in COP27 with two main events. Additionally, Lin O'Grady, EBRD Associate Director, Deputy Head of Sustainable Infrastructure Policy and Project Preparation, and Nigel Jollands, EBRD Associate Director for Sustainable Business and Infrastructure, Climate Strategy and Delivery, the programme's two heads, also participated in various other events.
The first EBRD event, titled "EBRD Green Cities: Egypt Leading in Africa" took place on 15 November and focused on Egyptian cities, namely the 6th of October City, Alexandria and Cairo, and how they are leading the way in Egypt for meaningful city action through the support of EBRD Green Cities.
The speakers, Dr. Mohamed Abdel Gawad Allam, Head of Multilateral Cooperation, Ministry of International Cooperation of Egypt; General Mohamed Taher El Sherif, Governor of Alexandria; Dalia Wahba, Deputy CEO and CIO, Hassan Allam Utilities; Mohamed Kamal, CEO, Elsewedy Industrial Development; and Dr. Maged Mahmoud, Technical Director, Regional Centre for Renewable Energy and Energy Efficiency, showcased the importance of city leadership and climate action, and discussed lessons learned from more than 50 EBRD Green Cities.
The event was moderated by Lin O'Grady and highlights of the discussion included the importance of energy transition in cities, how climate resilience is a major issue especially for coastal cities like Alexandria, and the role of the private sector in delivering the low carbon transition.
"EBRD Green Cities is all about partnership. Partnerships with governments, with cities and our donors," Sue Barrett, EBRD Head of Infrastructure in Türkiye, Middle East and Africa, said in her opening remarks.
The second EBRD event, "Multilateral Development Banks uniting to tackle Cities and Climate Action in Africa", took place on 16 November at the joint MDB pavilion which the EBRD shared with other MDBs.
This event presented MDB actions to support meaningful investments for low-carbon and resilient development in Africa and across the globe. It gathered representatives from the EBRD, the African Development Bank (AfDB), the European Investment Bank (EIB), the Inter-American Development Bank (IDB), the International Finance Corporation (IFC) and the World Bank.
Nigel Jollands represented the EBRD and highlighted the Bank's work with the private sector, how we scale up climate finance in cities across our regions and how we foster private sector engagement.
"We have to go far and we have to go together," Mr Jollands mentioned, highlighting the importance of collaboration among MDBs, but also collaboration with the private sector and cities.
The event was also livestreamed, so in case you missed it, you can watch it here.
In addition, EBRD representatives took part in the first-ever Ministerial Meeting on Urbanisation and Climate Change, convened by the COP27 Egyptian Presidency.
You can also watch Lin O'Grady and Nigel Jollands's COP27 highlights on Instagram.
By Olga Aristeidou