EBRD Green Cities and the future of cities at the Eleventh World Urban Forum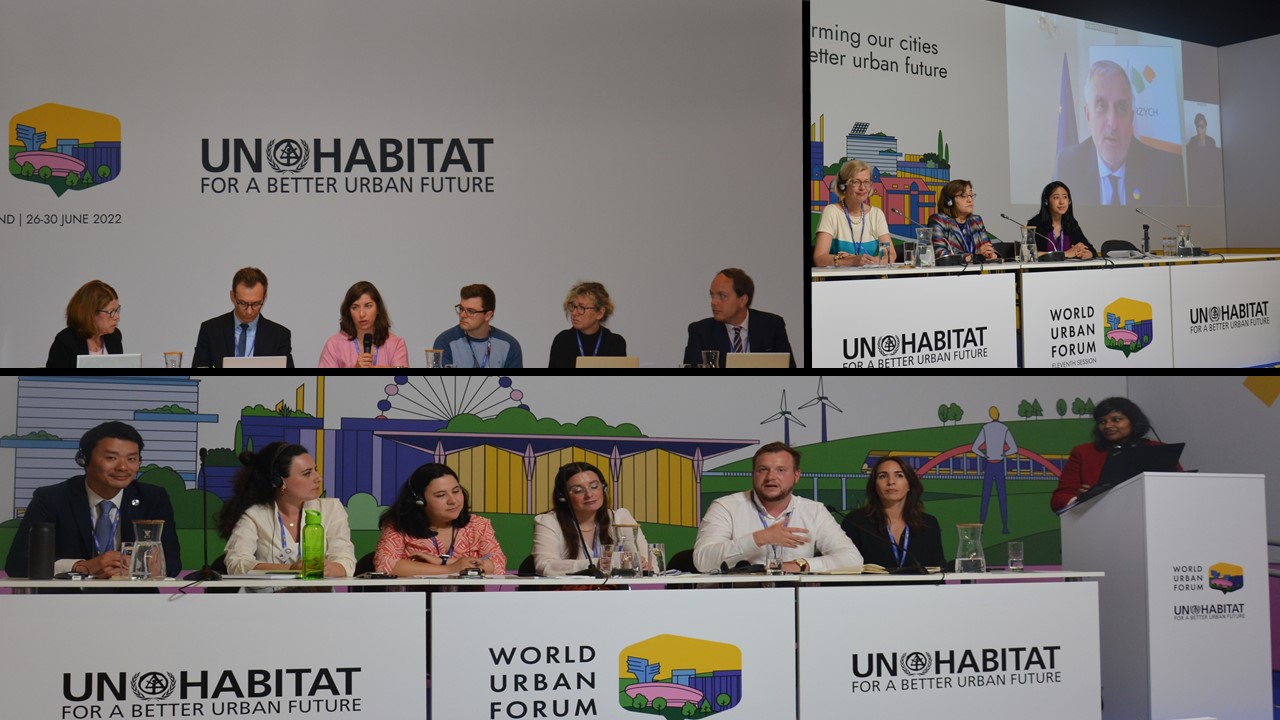 By 2050 almost 70% of people will live in cities. As the world continues to urbanise over coming decades, cities remain responsible for the majority of our global energy consumption and greenhouse gas emissions. There is growing pressure to make cities more sustainable in terms of environmental protection, social equality and shared prosperity.
The key question here is how do we conceive and reimagine the future of cities?
This year's 11th World Urban Forum's (WUF11) took place on 26 to 30 June in Katowice, Poland. The conference concentrated on the transformation of cities for better urban future: how to overcome the multiple crises that are at the forefront of the Global Urban Development Agenda. Over 16,000 participants from more than 170 countries around the world attended the event including representatives of governments, regions, cities, non-governmental organisations and financial institutions. EBRD co-organised three events and represented the Bank at five independent panels. The topics covered ranged from electric-mobility, to gender-responsive urban design and planning, to land value capture to achieve equitable cities.
The first EBRD Green Cities' event, Cities and Electric Mobility: Sharing Lessons Learned and Best Practices from Implementation took place on 27 June and was organised in cooperation with United Nations Industrial Development Organization (UNIDO) and Urban Foresight. Throughout the event, case studies from across a range of electric mobility projects were showcased, including first-hand perspective from representatives of Polish and Croatian cities. The panel, moderated by Lin O'Grady, Associate Director and Co-Lead of EBRD Green Cities, broadly discussed challenges and potential solutions for taking advantage of opportunities presented by e-mobility within an urban context. A key take-away was the importance of facilitating inclusive multiple stakeholder involvement in cities to enable a just transition towards e-mobility – an integral piece of the puzzle for a green, sustainable future.
On the same day Priorities under pressure: How cities can be inclusive, resilient and green in response to a refugee crisis was organised by EBRD Gender and Economic Inclusion team and the Organisation for Economic Co-operation and Development (OECD). The main objective was to understand the implications in terms of human capital and economic resilience of the crisis in cities with fast growing populations due to migration flows. It was moderated by Susan Goeransson, Director and Head of Infrastructure Europe, Sustainable Infrastructure Group, EBRD. Mayor of Gaziantep Fatma Şahin and Mayor of Wałbrzych Roman Szełemej, reflected on challenges at the municipal level when facing multiple priorities and conciliating short-term and long terms actions. Sunita Pitamber from the Gender and Economic Inclusion team shared examples about EBRD's engagement to promote a human capital approach, gender, and equality of opportunity in the EBRD Green Cities programme, and the OECD presented its experience on advancing inclusive growth in cities.
Climate Governance and Disclosure in Cities: Effectively assessing climate risks and opportunities – EBRD Green Cities' third event on 30 June, was jointly organised with Binder Dijker Otte (BDO) and Local Governments for Sustainability (ICLEI). The panel included representatives from each co-organising institution as well as from United Nations Office for Disaster Risk Reduction (UNDRR) and Warsaw's Air Protection and Climate Policy Office. Throughout the discussion, attention was brought back to risk-based climate governance. In addition to highlighting best practice, the panel also touched upon the key challenges that cities face when incorporating climate governance internally and enforcing transparent disclosure, including resource limitations and the need for data collection and standardisation.
WUF11 provided participants with an international and multi-stakeholder platform, from which to discuss the pressing topic of the future of the cities. The conference succeeded in giving a platform to examine existing trends, challenges and opportunities, as well as to jointly anticipate change, course-correct, and become more knowledgeable about the future possibilities that urban areas offer.
By Laura Monikowska