Cities at COP26: how MDBs can help cities worldwide regenerate and achieve climate goals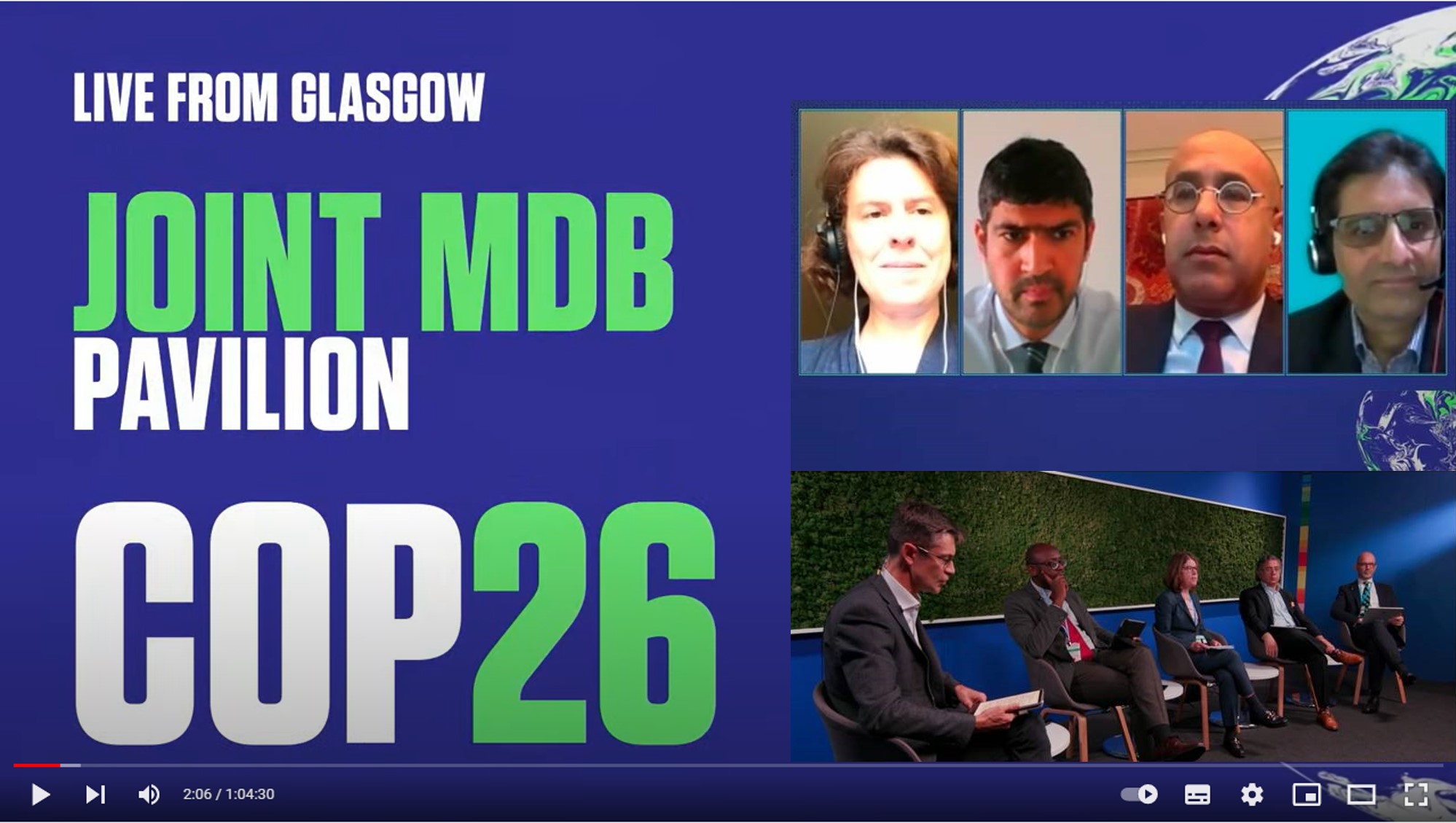 Cities, which already house more than half the world's population and will be the home of more than two-thirds of people by 2050, are at the frontline of dealing with climate change. Already responsible for 70 per cent of greenhouse gas emissions, their citizens face growing climate risk – but city governments, supported by urban sustainability programmes at multilateral development banks such as the EBRD, are working on solutions.
Their vision is that the expected – and unprecedented – growth in urban areas across the globe represents an opportunity to reshape our infrastructure and economies to decouple urban expansion and productivity from emissions and resource consumption. The hope is that these reinvigorated cities will be an essential component in achieving the goals of the 2015 Paris Agreement to keep global warming to 1.5C, as the world shifts to align all its systems from the energy it generates, to food, to transport and the goods we make and consume under common goals to reduce emissions and adapt to a changing climate.
At COP26, the international climate summit in Glasgow, the MDBs met on Thursday (11 November) for a lively discussion of the role they play in mobilising finance for these improvements, what they already do to help cities, how they cooperate among themselves – and, still more importantly, as the event's keynote speaker remarked, to "consider how collectively we might raise the bar, innovate further and support cities to achieve their net-zero goals."
"Here at COP26, we are reminded of the very urgent role cities play in achieving the Paris Agreement," said Stephen O'Driscoll, head of environmental policy at the European Investment Bank (EIB). The session – Cities, Climate Change and MDBS: cooperation, action and delivery – moderated by the EBRD's Nigel Jollands, one of the two co-heads of EBRD Green Cities, the Bank's flagship urban sustainability programme, and where the EBRD was represented by the programme's other co-lead, Lin O'Grady.
Panellists also included Manoj Sharma, chief of Urban Sector Group, Sustainable Development and Climate Change Department, Asian Development Bank; Stefan Atchia, Manager Urban Development Division, African Development Bank; Tatiana Gallego, Division Chief, Urban Development and Housing Division, Inter-American Development Bank; Vivek Pathak, Global Head and Director of Climate Business, international Finance Corporation; Daouda Ndiaye, OIC Head of Climate Change Practice, Islamic Development Bank; and Sameh Wahba, Global Director, Urban, Disaster Risk Management, Resilience and Land Global Practice, World Bank.
O'Driscoll made three points in his keynote address. All MDBs have programmes that support climate action in a strategic and systematic way; these programmes are similar, but tailored to the different regions where the different regional development banks work, and all are becoming more ambitious. These programmes are successful, in large part because of the cooperation and knowledge sharing between MDBs. Finally, the role that MDBs play in supporting climate action in cities is necessary but not yet sufficient.
The MDBs run a diverse range of programmes to help cities become more sustainable: the Emerging and Sustainable Cities programme at the Inter-American Development Bank, Making Cities more Liveable at the Asian Development Bank, the Urban and Municipal Development Fund from the African Development Bank, the International Finance Corporation's Cities Initiative, the City Climate Finance Gap Fund, co-managed by the World Bank and European Investment Bank, and of course the EBRD's own EBRD Green Cities programme with its 52 member cities and €5 billion of finance.
These programmes cover cities across the world and each delivers very significant investments. For example EBRD Green Cities has signed more than one €1 billion in infrastructure for cities since 2016. All these programmes share components such as technical assistance, capacity building, concessional or market rate finance, and donor support.
MDBs support cities to improve the state of their urban transport, water, waste water, waste management, health education, street lighting, energy efficiency, nature-based solutions and climate resilience. Cooperation between MDBs on these projects also plays important role. MDBs cooperate on co-financing investments – for instance, the EBRD and EIB as well as knowledge sharing and capacity building.
"Without this cooperation our ability to deliver and support climate action would be seriously hampered by a lack of knowledge, transfer of experience between institutions and possible duplication of effort and inefficiencies which we need to avoid if we actually want to tackle the climate crisis in the most effective way possible," said O'Driscoll.
"The work of MDBs can't be seen in isolation and nor can it be considered sufficient to meet the climate challenge in cities. Our role is to act as a catalyst to remove barriers, decrease risk, prove concepts, build capacity, and support governments and the private sector to take action. We are acutely aware as MDBs that it takes the engagement of many stakeholders, and deep partnerships across the public and private sector, for projects to come to fruition and sustainable action to be taken."
The conversation that followed ranged from challenges faced by MDBs to high-level organisational issues to the benefits of neighbourhood work bringing in local communities to the virtue of sub-sovereign lending. But the common thread running through all the interventions was the need for MDBs to work ever more closely together, each bringing its own unique expertise to bear on problems for cities worldwide, to pool experience and scale up successful urban projects to benefit people and places across the globe.
Lin O'Grady praised cooperation between EIB and EBRD on a waste water treatment plant in Skopje, "which showed this region our clients that we are in business with EIB and other MDBs working on green urban infrastructure investments, rather than the big road and railway connectivity investments people expect of MDBs. This cooperation also really allowed us to push the green credentials of this investment. Both institutions have huge expertise in this area. Both are completely committed to deliver on the Paris agreement. We're now in the delivery stage. That's the important part of the project, and working with EIB we will be able to work with our client to make sure that investment is delivered as speedily as possible. That is so important."
As Pathak said: "the maximum pressure that we're going to have in the next three decades is going to be in urbanisation, because that's largely where jobs are going to be created. It means it's absolutely critical to have leaner, greener and cleaner cities going forward. I don't think it's going to be ever possible for one city to do this on a standalone basis. It has to be a combination of all of us getting together either for tackling each vertical separately or collectively. But it's very important that we collaborate on a holistic level when approaching these cities.
Pathak added: "We need to be able to collectively demonstrate new models of success here. And then, once demonstrated, we need to think how we collectively scale them up. This could be done by one of the MDBs providing technical assistance, another coming in with structures and a third one financing, or collectively. But each one of us can play a role and it's important that we don't overlap. That we have that distinction of who will do what going forward."
To view the recording of the livestream, click here.
By Vanora Bennett