Ceremony marks Split becoming 41st EBRD Green City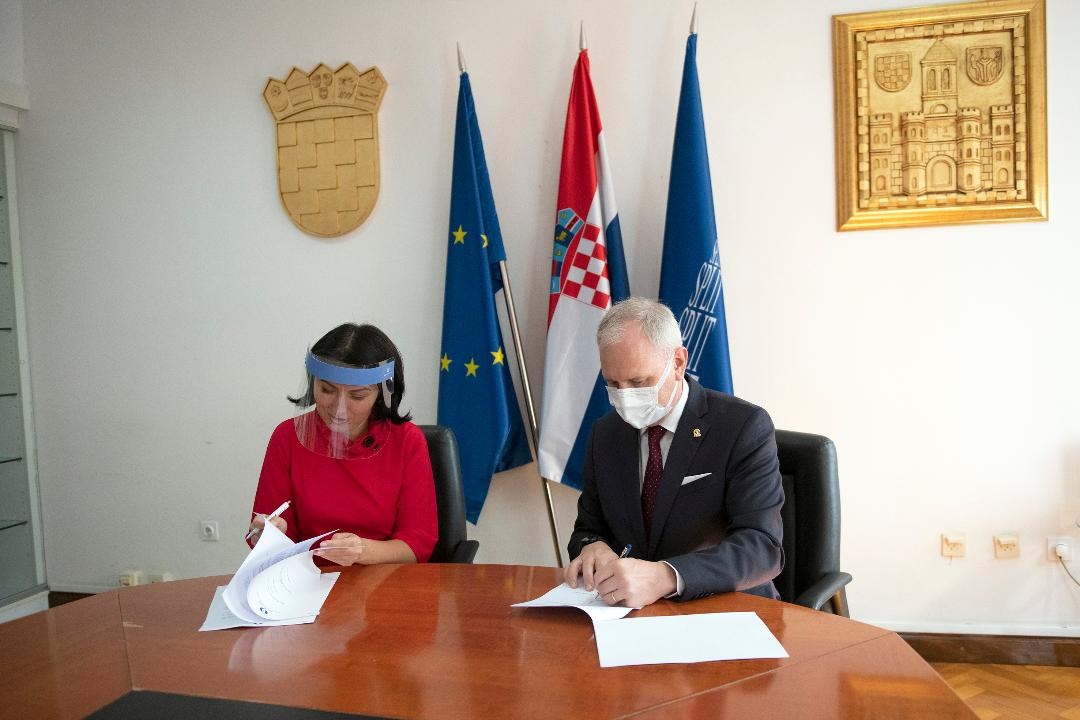 Milestone for successful urban sustainability programme will be marked by EBRD investment in purifying Split's drinking water.
Signing ceremony marks Croatian city of Split's membership of EBRD Green Cities
Trigger project is expected to bring €20m EBRD investment in Split water purification plant
City will get EBRD help designing a tailor-made environmental improvement plan
A signing ceremony today marked Split's joining the EBRD's successful urban sustainability programme, EBRD Green Cities, as its 41st member. Mayor Andro Krstulović Opara and Victoria Zinchuk, EBRD Head of Office, Zagreb, signed a Memorandum of Understanding showing the Croatian coastal city's strong interest in developing the green economy.
As the next step in the relationship, the EBRD expects to make a €20 million investment in the construction of a planned water purification plant for Split metro-area and if needed provide additional co-financing together with EU Cohesion funds and national authorities, for investments into water infrastructure in Split and surrounding municipalities. Split will also benefit from support offered through EBRD Green Cities in preparing a tailor-made Green City Action Plan (GCAP) to identify, prioritise and connect its environmental challenges with sustainable infrastructure investments and policy measures. Donor funding comes from TaiwanBusiness – EBRD TC Fund.
Speaking for the donor, Representative Kelly Wu-Chiao Hsieh, Taipei Representative Office in the United Kingdom, said: "Cities are at the forefront of tackling environmental challenges, and the EBRD Green Cities programme has been instrumental in bringing investments and policy advices to cities in the EBRD regions. We have been supporting the programme by providing concessional loans through TaiwanICDF and grants through TaiwanBusiness-EBRD Technical Cooperation Fund. We are pleased to play a part in Split's journey to becoming a green city."
EBRD Green Cities was conceived to offer tangible support to help cities improve the quality of life of their residents. All participating cities embark on a trigger project to improve their local environment then, with EBRD help, develop a GCAP to identify further investments and policy changes best suited to their needs.
The EBRD is a pioneer in financing projects promoting renewable energy and combatting climate change, and has become the largest renewable energy investor in its regions of Central and Eastern Europe, Central Asia and the Southern and Eastern Mediterranean.
Through its Green Economy Transition (GET) approach, under which the EBRD is increasing green financing to 40 per cent of its annual business volume by 2020 and to raise that proportion to over 50 per cent by 2025, the Bank is helping countries where it works build low carbon and resilient economies.
Cities, which account for 70 per cent of energy use and 80 per cent of greenhouse gas emissions in the world, represent a big opportunity to tackle climate change and environmental degradation. This is particularly true of cities in the EBRD regions, where obsolete urban infrastructure is degrading the quality of life of citizens, increasing greenhouse gas emissions, and preventing communities from adapting to climate change.
EBRD Green Cities, launched in 2016 with €250 million of funding that was expected to last five years, proved so popular that it was replenished within just two years. Programme financing has grown fourfold and EBRD Green Cities is also supported by the Green Climate Fund.