Ankara launches Green City Action Plan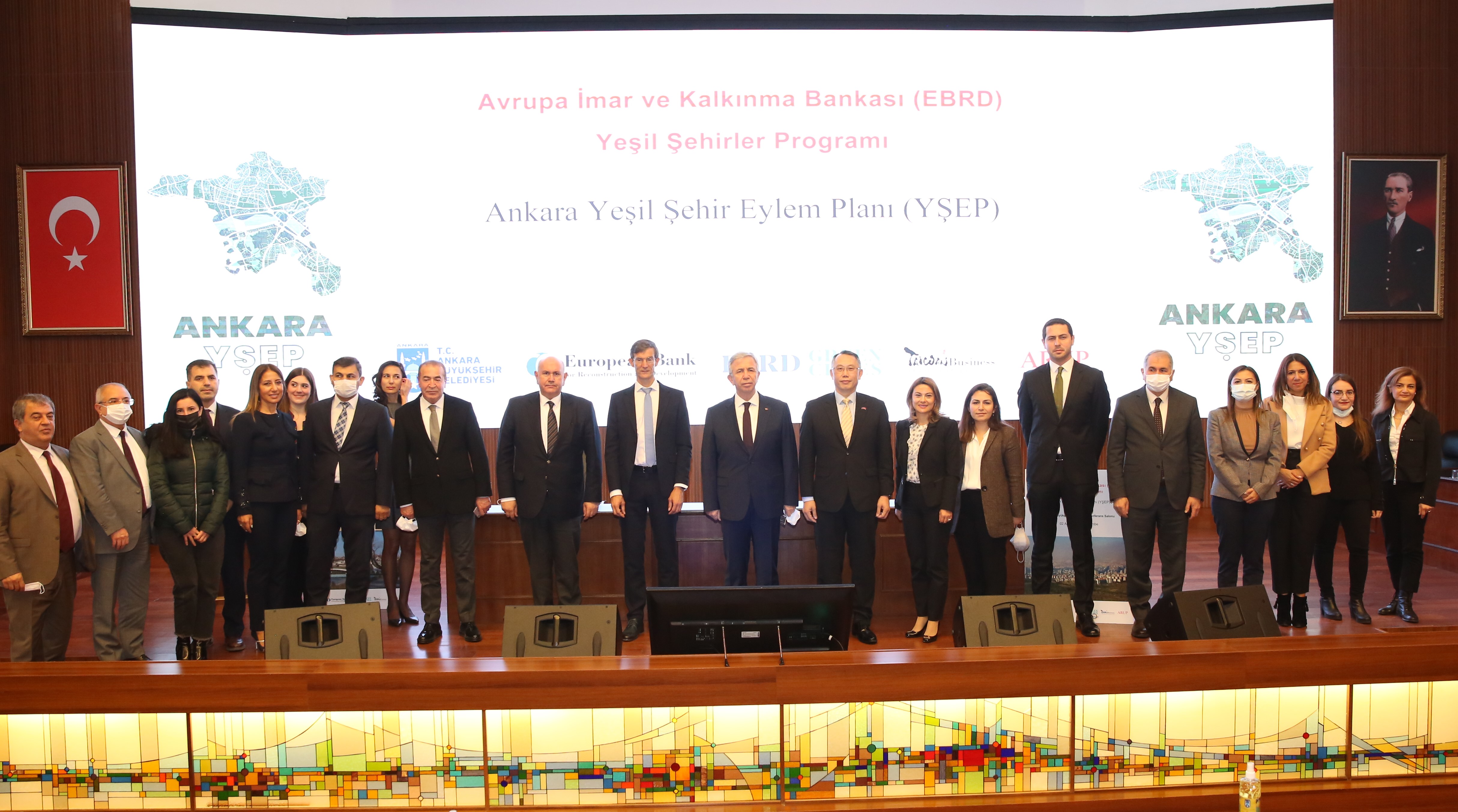 Ankara Metropolitan Municipality has launched its Green City Action Plan (GCAP) today at the Metropolitan Municipality Conference Hall, with high-level representatives from the City, EBRD and the donor of TaiwanBusiness-EBRD Technical Cooperation Fund. In his opening remarks, Mansur Yavaş, Mayor of Ankara, made it clear that the city's resources are limited and that "therefore, we need to act now." The mayor stated that the GCAP and its defined actions will play an important role.
The Ankara GCAP will be prepared in line with Ankara's goal of "leaving a more liveable, nature-friendly and ecological urban legacy to future generations" and will address the most pressing environmental challenges arising from climate change. Together with a wide-range of relevant local stakeholders, tailored actions will be developed to improve the environmental performance in many different areas such as water, air quality, soil, energy and waste infrastructure, transportation systems, buildings and green.
During the launch event, EBRD Managing Director for Turkey, Arvid Tuerkner, emphasised the importance of cities in dealing with climate change. He stated that cities are a key contributor to the climate crisis, but at the same time they are also very vulnerable. In Turkey, this vulnerability has become evident in recent times, for example, through devastating floods and a rare sandstorm that occurred recently in Ankara.
To tackle challenges related to climate change immediately, the GCAP will include actions and policies that can be implemented in the short and medium term – while being guided by a long-term vision, strategic goals and also long-term actions. The GCAP will be in line with and support the implementation of the Ankara Province Local Climate Change Action Plan, which has just been completed.
The Ankara GCAP is kindly supported by the TaiwanBusiness –EBRD Technical Cooperation Fund. At the launch event, Volkan C.Y. Huang, Representative of Taipei Economic and Cultural Mission in Ankara and representing the donor of TaiwanBusiness-EBRD Technical Cooperation Fund, praised Ankara's push for sustainability. He also underlined the importance of finance for action in order to achieve Sustainable Development Goal 11 (SDG 11), which aims to make cities and human settlements inclusive, safe, resilient and sustainable.
After the opening remarks, the local consultant team presented the GCAP method and elaborated on the next steps of its development.
Ankara has been the second city in Turkey to join the EBRD green Cities programme, which has a financing framework of EUR 3 billion. The network includes 52 cities, including four in Turkey – Ankara, Izmir, Istanbul and Gaziantep.