A look back: EBRD Green Cities 2022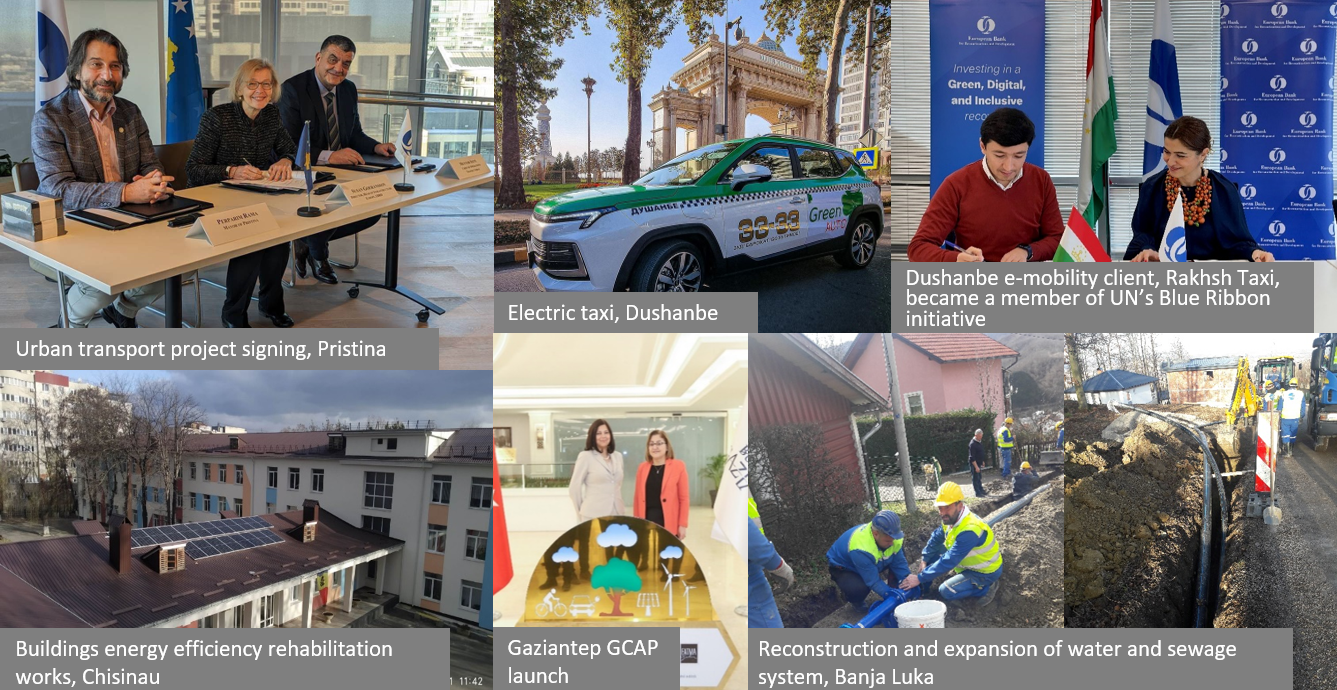 What an exciting and eventful year for EBRD Green Cities!

We have continued to invest in green and climate action and have helped cities complete their GCAPs. The EBRD Green Cities community has grown, and we have brought together many of our stakeholders to share knowledge and experience.

In 2022, EBRD Green Cities has continued to support our cities in their common goal of a green and sustainable future.
Investments in green and climate action
During the last 12 months, there has been significant progress with implementation of Green City projects. This has included:
Beyond this public transport has received a boost, with the delivery of 273 buses to Ankara (Türkiye), 15 trolleybuses to Sarajevo (Bosnia and Herzegovina) and the near completion of construction of the metro line in Izmir (Türkiye). Implementation also continued across our Green Cities in Ukraine where the situation allowed.

16 Green Cities investment projects have been signed for a total amount of EUR 762.7 million. This included several 'firsts' – a municipal bond issuance for Agadir (Morocco), e-taxis in Dushanbe (Tajikistan) and finally solar power providing district heating in Pristina (Kosovo). Significant uptake of investments in these key areas are expected in the coming years.

There are now 80 investments in the Green Cities portfolio, all of which have impact with CO2 savings equivalent to taking 969,000 cars off the road each year!
Awards
The 6th of October Dry Port project won the IJ Global Transport Deal of the year for the MENA region and three Green Cities projects won the EBRD Sustainability awards – Balti District Heating (Sustainable Energy – GOLD), 6th of October Dry Port (E&S best practice – Silver) and Khmelnytskyi Solid Waste (E&S best practice – Bronze).
Green City Action Plans (GCAPs)
EBRD supported Almaty, Dushanbe, Warsaw, Walbrzych, and Khmelnytskyi in completing their GCAPs.

7 cities embarked on their GCAP journey: Bishkek, Medias, Gaziantep, Timisoara, Brcko, Ganja, and 6th of October City and in parallel 17 GCAPs are presently ongoing.
EBRD Green Cities growing
EBRD Green Cities grew in 2022 reaching a total of 50+ cities across 24 countries. We welcomed 4 new cities this year: Mostar, Brcko, Agadir, and Bucharest.
Outreach, engagement and knowledge sharing
Our outreach and knowledge sharing is a critical part of EBRD Green Cities. This takes diverse forms – from the 6,700 stakeholders involved in GCAP activities to the events at the EBRD Annual Meeting, WUF and COP27. Our flagship event in Vienna in October attracted more than 1,500 attendees both in person and online.
As we celebrate this year's milestones we would like to extend a special thank you to our Mayors, city leaders, and partners for their commitment, and to our donors for their continued support. This year's achievements are a result of a strong and dedicated network, which we aim to expand further in the coming years.

We would also like to emphasise that EBRD is fully committed to continuing support for our seven Ukrainian Green Cities (Kyiv, Kharkiv, Dnipro, Mariupol, Lviv, Kryvyi Rih and Khmelnytskyi), as well as other Ukrainian cities, during these very challenging times.