A green and resilient city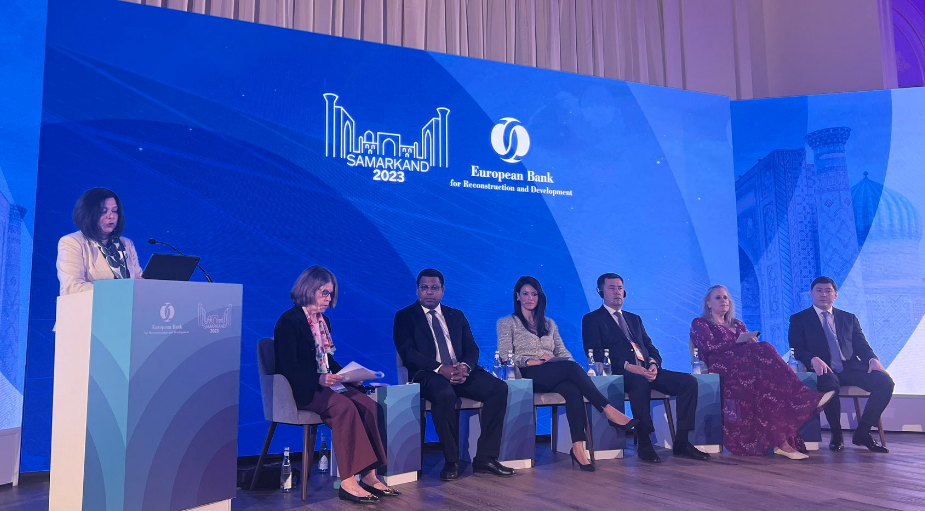 The EBRD Annual meeting 2023 in Samarkand, Uzbekistan, featured a panel organised by our EBRD Green Cities team, discussing what is needed to build a resilient and green city.
EBRD Green Cities, which has attracted €5 billion of funding since it started as a pilot in 2016, now operates in more than 50 cities across three continents. With generous backing from donors and shareholders, it supports cities which want to build a cleaner and more sustainable life for their citizens with know-how and investments. The programme's popularity could instantly be visualised from the crowd packing the conference centre hall to join the panel.
Nandita Parshad, EBRD Managing Director, Sustainable Infrastructure Group, started the meeting by introducing the programme and some of its achievements - including the 100 electric buses that are helping cut carbon emissions in Samarkand itself, as a result of its signing up to EBRD Green Cities in 2021 and embarking on a Green City Action Plan of tailor-made environmental improvements.
Samarkand regional governor Erkinjon Turdimov ran through the changes happening in his part of the world, reflecting on the importance of slowly changing mindsets and encouraging people to start saving resources, from energy to water. Before Samarkand started implementing any projects, he recalled, a dialogue with the people allowed the country's President, Shavkat Mirziyoyev, to make sure their desires were implemented by "connecting people with government". He added: "the goal is human dignity".
The panel's moderator, Lin O'Grady – Head of the EBRD Green Cities programme – introduced four more speakers: Egypt's Minister of International Cooperation Rania Al-Mashat, the First Deputy Akim (governor) of East Kazakhstan, Almaskhan Smatlayev, who has worked closely with the EBRD Green Cities team, Thierry Déau, CEO of Meridiam, a company that specialises in sustainable infrastructure projects, and Catherine Workman of law office Pinsent Masons, who advises on infrastructure schemes.
The discussion turned to the practical importance of public-private partnerships to fund the investments needed to develop sustainable cities, with Catherine Workman stressing that a successful PPP needs careful project preparation, risk assessment and risk allocation.
But it returned to the need for buy-in at all levels. Rania Al-Mashat stressed the importance of the multi-stakeholder approach and building trusted relationships. Mr Svatlayev commented on the need for consciousness-raising about the benefits of an ecological approach. And Thierry Déau called stakeholder engagement "mandatory and an enabling environment for success."
The audience clearly agreed, responding to an interactive quiz question about what is needed to build a green and resilient city by choosing "active stakeholder engagement" and "effective project planning".
As Lin O'Grady commented, this fits well with the objectives of EBRD Green Cities. The programme encourages all cities that join up to consult widely and draw up a list of the environmental objectives they want to achieve – the Green City Action Plan, or GCAP – which will guide each as they make investments and improvements.
"I think we've concluded in this panel how important joined-up green thinking is, and the city is the perfect place for that - somewhere we can really have impact because of all the different modes it operates in," summed up Lin O'Grady. "The private sector is all-important, but there are key ingredients that the private sector needs to be able to structure projects. And finally, what really comes out is the importance of citizens, because at the end of the day EBRD Green Cities is about improving people's lives and also involving citizens in the whole decision-making process."
By Vanora Bennett
Watch the event recording here